A leading provider of commercial explosives and innovative blasting systems for the mining, quarrying, oil and gas, and construction markets required a solution for flares killed by the liquid ammonia introduced into the flare system. This resulted in ammonia being emitted into the atmosphere and creating an unsafe work environment and forced the plant to close down the flare system which had an impact on plant production.
The Case
To overcome the problem, the company decided to upgrade the existing single isolation ball valves that were used to isolate the ammonia flare system, moving from a hybrid spring-loaded seat design to a dual-safe design. However, the existing pipework could not be modified: One end of the valve was flanged and the other end was socket welded; the socket weld-end connection of the existing valve could not be removed.
Habonim's Solution
Habonim Dual-Safe (DB&B) valves guarantee isolation on critical applications and service when blocking any media flow or in-line leaks is vital.
The Dual-Safe valves fitted into the existing dimensions as well as matched the end-connection. Due to the low operating pressure in the process, Habonim recommended its hybrid seat design with spring-loaded seat rings to ensure positive isolation at low operating pressures. Delivery was undertaken within a very short time,
The Habonim Dual-Safe valve series presents the optimal design solution:
• Incorporates two main isolation valves and one bleed valve in a single body construction, thus securely isolating gas furnaces, marine motors, LNG tanks, and LNG-fueled trucks.
• Offers the lowest possible number of potential leakage points from a process connection
• Reduces the overall valve envelope size and weight by integrating valves, piping, and fittings into one compact design.
The Dual-Safe Advantage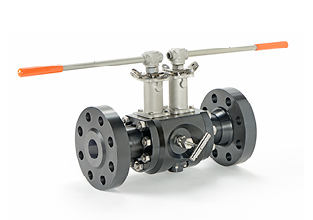 • Increases system reliability
• Saves space and reduces weight
• Reduces installation time
• Streamlines maintenance operations
• Reduces number of items in repair kits
• Rugged construction
• Bubble tight shutoff on all three valves
• Coupled operating mechanism reduces the number of actuators on the main line
• Tongue and groove design for all body seals
• Variety of end connections (welded, threaded, flanged)
Performance
Thanks to the high standards that Habonim sets for its Dual-Safe valves, the upgrade was achieved quickly and to the customers' complete satisfaction, ensuring a safe working environment. Thousands of Habonim Dual-Safe valves have been in operation for more than 25 years worldwide. Once again, Habonim LNG valves can be seen performing in demanding applications.