Regulations governing all ships operating in northern EU waters entail compliance with strict sulphur emission limits. The tighter norms aim to reduce air pollution from the maritime industry in order to protect human health and the environment. Ship operators must opt between more expensive, cleaner fuel or an approved abatement technology. The cleaner fuel option means switching from high-sulphur fuel (HSF) to liquefied natural gas (LNG).
The Challenge
When an integrator of high-pressure pumps and skids was building a skid for a MEGI system to be mounted on an LNG ship in Korea, he needed an easier and better valve design than current available solutions — preferably a three-piece design with a removable central orifice plate that would facilitate easy hydraulic pressure testing of the skid. All materials used to build the skid had to comply with maritime standards as well as with the requirements of the Korean standards authority. The valves needed to be supplied by a reliable manufacturer at an affordable price point. Habonim met these criteria: For more than two decades, our three-piece valves have been used in the toughest cryogenic applications, have been delivered, tested and certified by different maritime testing authorities, and have met project cost limitations.
Habonim's Solution
Habonim's high-pressure Class 2500 cryogenic floating ball valve offers all the following benefits: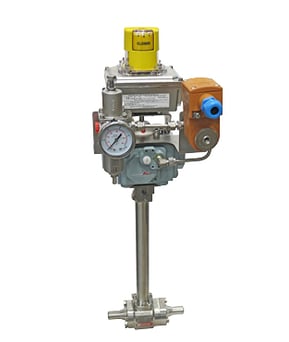 Designed for easy operation, removal and installation while mounted on the skid, taking into account the skid piping isometrics and space constraints.
The removable orifice plate facilitated not only FAT testing and maintenance, but also on-board commissioning. By enabling easy removal and exchange between different sizes of orifice plates, it enabled fine-tuning at commissioning to the minimum possible gasification time between HSF to LNG switching operations, while preventing hammer effects.
A dual certificate was obtained from the Korean regulatory authority for the SS 316/316L stock bar material, as required by the end customer.
All Habonim's LNG solutions feature superior inline sealing: Total HermetiX™ leak-free stem seal technology minimizes downtime by providing up to 500,000 maintenance-free cycles, decreases the hydrocarbon footprint, and increases production efficiency.
The valves can withstand temperatures as low as -60°C (-76°F) and gas line pressures of up to class 2500, both under- and above-ground.
Performance

Thanks to the high standards that Habonim sets for its LNG valves, all tasks were achieved with ease and to the customers' complete satisfaction. Thousands of Habonim cryogenic floating ball valves have been in operation for more than 25 years worldwide. Once again, Habonim LNG valves can be seen performing in demanding applications.