Every now and then, pressure relief valves need to be recertified. It can be a challenging procedure, involving the total shutdown of operations. When a leading provider of commercial explosives and innovative blasting systems to the mining, quarrying, oil and gas, and construction markets needed to safely recertify pressure relief valves (PRVs), the company was forced to do just that — shutting down operations and suiting up workers.
The Challenge
The company used a single isolation ball valves to isolate pressure relief valves (PRV) at 2 x 100 ton and 1 x 300 ton Ammonia Nitrate (AN) bullets. The AN bullets need to be de-pressurized and taken offline in order to enable recertify the PRVs. Positive isolation could not be guaranteed with the single isolation ball valves, thus requiring the plant workers to be suited up with complex safety suit and equipment in order to perform the PRV recertification procedures.
Bearing this in mind, the company decided that, prior to the next shutdown, the isolation valves would be upgraded to a dual-safe (DBB) design. The next window of opportunity to undertake such an upgrade would be another four years away.
A traditional solution for dual-safe-valve made out of two valves and a bleed valve connected in between them had been considered, but this would have added more weight, occupied more space, and introduced more potential leak paths. For all these reasons, the solution was not considered appropriate for the existing installation.
It was generally agreed that a compact dual-safe valves that hosts all 3 valves in one body would be the best solution, but locating the right valve for their application turned out to be tough, until they found Habonim's Dual-Safe (DBB) valve series.
Habonim's Valve Solution
The Habonim Dual-Safe (DBB) valve series presents the optimal design solution and guarantees safe isolation on critical and risky applications and service. The Dual-Safe (DBB) unit incorporates two main isolation valves and one bleed valve in a single body construction, thus securely isolating gas furnaces, dual fuel marine engines, LNG tanks, LNG fueled trucks and flammable or toxic plant sections.
This special construction offers the lowest possible number of potential leakage points from a process connection and reduces the overall valve envelope size and weight by integrating valves, piping, and fittings into one compact design. Habonim was able to propose dual safe (DBB) valves that meet the required specifications and the required delivery time.
Dual-Safe Valve Advantage

Increases system reliability
Saves space and reduces weight
Reduces installation time
Streamlines maintenance operations
Reduces number of items in repair kits
Rugged construction
Bubble tight shutoff on all three valves
Coupled operating mechanism reduces the number of actuators on the main line
Variety of end connections (welded, threaded, flanged)
A standard cast-based offering for reliability and availability.
Habonim's Dual-Safe (DBB) valves are available in wide range of pressure class and valve technologies. The Dual-Safe (DBB) basic version is manually operated and suitable mainly for sampling systems and instrumentation. The complete in-house package solution includes valves, actuators, and accessories, which are assembled, calibrated, and factory tested.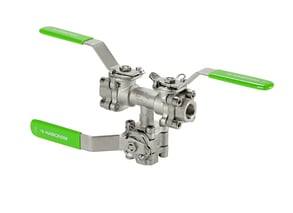 Habonim offers Dual-safe (DBB) standardized cast based valves based on some of its legacy valves series to be supplied within short delivery times and with highly cost effectiveness.
Performance

Habonim Dual-Safe(DBB) valves met the company's expectations and are delivering the expected benefits. Habonim Dual-Safe (DBB) valves have been successfully used for similar and for many other applications and use cases in the last decades and have become more and more popular as fugitive emission and safety regulation become stricter and widely enforced.