ISO 23826:2021 certified valves can be incorporated in Hydrogen storage and transportation systems without compromising safety or performance over time.
The recently published October 2021, ISO 23826:2021 is a guideline for valve design, type testing, marking, manufacturing tests, and examination requirements for ball valves to be used for Hydrogen transportation as well as other gases.
As Hydrogen is evolving to be one of the main energy carriers of the near and distant future, there is a growing legal and regulatory need for transporting and storing Hydrogen in a safe manner.
Developers, designers, and operators of Hydrogen gas transportation and storage systems should be familiar with ISO 23826:2021 standard as one of the key considerations when selecting valves to be designed and used in these novel systems.
Scope of the standard
The new ball valve standard ISO 23826:2021 for gas cylinders covers ball valves in the function of:
Closures of refillable transportable gas cylinders, pressure drums, and tubes;
Main valves for cylinder bundles;
Valves for cargo transport units [e.g., trailers, battery vehicles, MEGCs: Multi-Element Gas Containers]; which convey compressed gases, liquefied gases, and dissolved gases.
With safe use and operation in mind, ISO 23826:2021 states tests protocols such as: mechanical strength, impact strength, burst pressure, endurance, external and internal leak tightness, flame impingement and visual examination to ensure valve integrity after having it undergo such rigorous testing.
Valve design requirements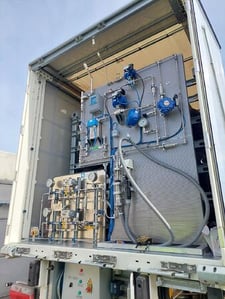 ISO 23826:2021 define operation temperatures range between -20°C to +65°C (-4°F to 149°F ) through this range one should be able to operate the valve flawlessly - manually or with actuating device in either indoor or outdoor environments.
When fitted, closed valves need to be internally leak tight during transport and storage at temperatures as low as -40°C (-40°F).
Ball valves used in liquefied gas service must have a cavity relief system (e.g., a vent through the ball) to prevent pressure accumulation within the ball cavity in the closed condition.
Material requirements
ISO 23826:2021 provide a few guidelines for materials selection when designing valves that perform at extreme cold temperatures and remind us to avoid brittleness-prone materials and to pay attention for materials compatibility with inline substances (gases).
Mechanical strength
Performing in so demanding applications, require rigorous testing to ensure valves resistance to hydraulic burst pressure to avoid deformation or rupture. The valves, according to ISO 23826:2021, should enable manual actuation for at least 2,000 cycles without sealing replacement at working temperatures and pressures – 1.2 times of the maximal working pressure, without aiding equipment and at acceptable torque values. Moreover, a hydraulic burst test is performed, using water and at a pressure of 2.25 times the maximal working pressure to ensure valves integrity even under extreme pressure conditions.
Safety first! Especially in case of fire.
To comply with ISO 23826:2021 a ball valve must allow manual closing after exposure to flames, by hand or using a simple tool after cooling. Device actuated valves should either properly function or present a shut off mechanism after being exposed to flames.
Securing arrangements
In order to prevent an uncontrolled release of cylinder contents, every ball valve needs to offer a means to prevent inadvertent opening. This means the ball valve needs to have either a removable ball valve operating device or a locking mechanism.
Test Highlights:
• 2,000 Cycles test under 1.2 times the maximal working pressure (using Nitrogen, Helium, Hydrogen or inert mixture of these gases).
• Inline and Atmospheric leak test at -40°C (-40°F), -20°C (-4°F), 65°C (149°F) & ambient.
• Low pressure leak test.
• Sealing tested with Helium or Hydrogen media.
• Burst test under 2.25 times the maximal working pressure, with water.
• Flame impingement test.
• Excessive torque test.
HABONIM – Valves for Hydrogen processes
HABONIM offers a full product line of ball valves to support the emerging Hydrogen-energy market. HABONIM offers Process-Ball-Valves for ultra-high pressures whilst the market traditionally uses instrumentation valves for ultra-high pressures.
HABONIM is 100%-ready with the most trusted high-end solutions for the Hydrogen world.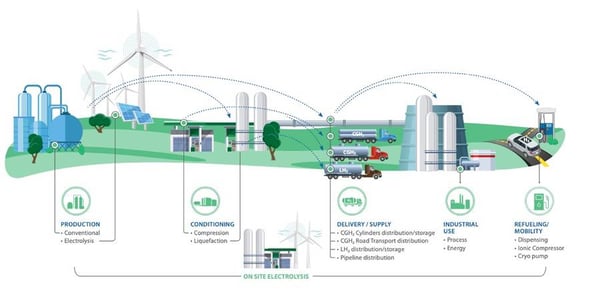 << Consult our experts about your application >>
Why HABONIM?
Certified, tested and proven Hydrogen product line.
A firm install-base in Hydrogen use across the value chain of Hydrogen-As-Full applications.
Our accumulated know-how and professional staff - we understand the entire Hydrogen delivery process from production to dispensing.
Reliability and consistency – we have references and case studies showcasing our successful partnering with leading oil and gas companies.
Over 70 years of outstanding product delivery!
HABONIM Hydrogen valves product line:
HABONIM Hydrogen valves materials are non-susceptible to H2 Gas Embrittlement (HGE)!

HABONIM Hydrogen valves are equipped with the Total HermetiX™ - Integrity Package comprised of three main elements and a superior inline sealing mechanisms in some of them:


Zero fugitive-emission

• HermetiX™ stem sealing design with zero fugitive emission sealing capability.

• Tested or certified according to ISO 15848-1 and API 641 standards.




• Tested for up to 500,000 cycles of operation.




Double body sealing

• Body-to-ends & body-to-bonnet double sealing for superior sealing.

• Selection of sealing materials for diverse applications.




• Fugitive emission prevention.




Fire Safe

• Accord

ing to API 607 & ISO 10497 - where applicable.

• Type-test

ed and certified by leading certification bodies for marine service – for some

valve series.




• Clean Fire Safe construction guarantees no graphite contamination of the media flow.


H24 valve during flame impingement test


HABONIM Hydrogen valves H24 (414bar class #2500), H25 (550bar / 8,000psi) and H29 (700bar / 10,152 psi) are TPED certified -

EN 14432 & ISO 23826 approved!

Working Pressure - up to 1034 bar (15,000psi)

Working Temperature - 40°C to +85°C (-40°F to 185°F)

Built in pressure relief valve