Four main valve technologies are used in cryogenic applications such as LNG terminals, shipping, tankers, dispensers, and GVU engines: globe valves, ball valves, trunnion valves, and top-entry trunnion valves.
While bidirectional globe valves have traditionally been used as the primary choice for media control and shutdown in cryogenic media handling applications, they also pose a number of challenges when compared to other valve types such as ball valves. These include:
Small Cv size, which affects the selection of overall piping size and makes these valves a potential bottleneck in the system's overall flow capacity.
They require a linear actuation device for both shutoff and control. These devices are usually much more complex and costly when compared to the quarter-turn actuation devices required to control and operate quarter-turn style valves such as ball valves. When taking the whole valve-actuator package into account, this has a significant impact on the overall complexity and cost of the system.
Emergency shutdown functionality required in many LNG systems is more complex when using globe valves.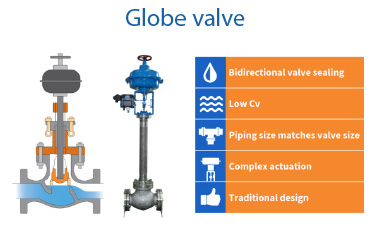 These challenges are even more acute in applications requiring the transport, storage, or handling of small bulk LNG. Systems for small bulk LNG need to be small and lightweight, while still maintaining maximal flow for shorter loads and offload operations.

This means that the flow capacity of the bottleneck components has a significant impact on the total system efficiency. As ball valves provide a higher Cv when compared to globe valves of the same size, they are smaller in size without losing flow rate. This allows for the entire piping system to be reduced in size, which drastically reduces the overall system size, weight, and cost.
The ideal combination: bidirectional sealing capabilities and floating ball valve technology
HABONIM offers a bidirectional cryogenic floating ball valves with all the benefits of a cryogenic valve, the simplicity of its proven floating ball valve technology, and full bidirectional Δp sealing capabilities. This patent-pending bidirectional cryogenic floating ball valves is a game changer for LNG applications as it can be used on a bidirectional loading and offloading single pipeline as well as a shutoff valve for a storage tank, developing back pressure to the downstream side while empty, and without upstream line pressure.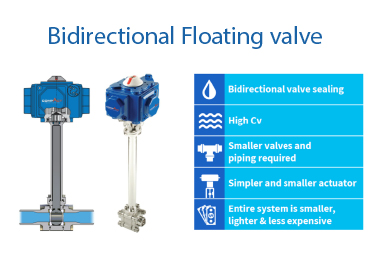 Its unique patent-pending design includes dynamic seats, allowing the valve unconditional bidirectional sealing under full Δp, as well as relatively simple construction with minimal parts. These features provide all the benefits of the high flow (Cv) of a ball valve with no restriction on flow direction or sealing, and with a safer design for cryogenic use.
Moreover, it requires a simpler and smaller actuator, which makes the entire system smaller, lighter, and less expensive.
In addition, HABONIMS's bidirectional cryogenic floating ball valves are designed, tested and inspected according to BS 6364:1984 (amendment 3) standard and have the required TPED certified for transportable cryogenic and high-pressure valves, and a wide range of marine-use certifications such as Lloyd's Register (LR), DNV-GL, ABS, Bureau Veritas (BV), RINA, Korean Register (KR), and more. They offer the safety, reliability, and maintainability required for use in LNG applications.
The perfect solution for Bunkering and small LNG barges
The following table demonstrates the advantages of HABONIM's bidirectional floating ball valve in comparison to the other three technologies: globe, trunnion, and top-entry trunnion. With a simpler construction and technology, smaller size and weight, lower level of complexity, and lower overall system costs, this valve is ideal for use in cryogenic applications such as bunkering and LNG barges.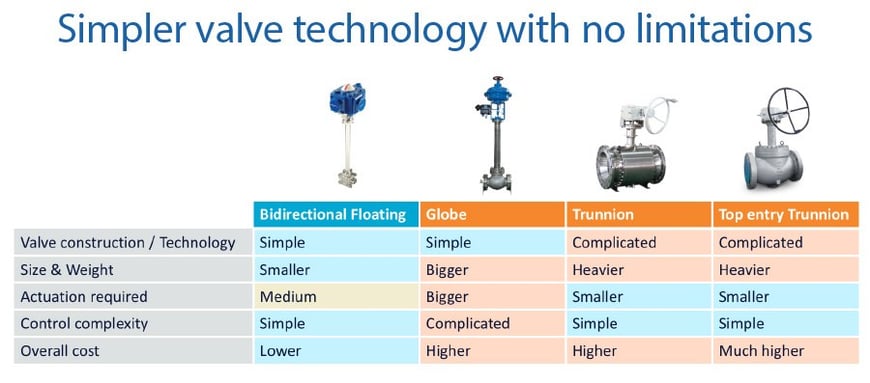 These factors, together with HABONIM's proven track record in supplying robust cryogenic valves for LNG applications, are what led Titan LNG to select HABONIM's fire-safe floating ball valves for the first inland bunker pontoon in Europe. These valves are capable of sealing in both directions (bidirectional) for both standard on/off as well as control (V-ball) in both manual and automated operations. This bidirectional sealing capability was required due to the two standard operation sequences, which means that in cases where the pontoon LNG bullets are refilled via road tankers (at approximately 13 bar overpressure), the pressure side will be on the upstream seat side; and in cases where the pontoon's LNG bullets refuel a ship (at approximately 4 bar pressure), the pressure side will be on the downstream seat side. The valves also met meet the project's budget restrictions, which stemmed from the relatively small scale of the vessel and the challenges related to transporting small bulk LNG.
In addition, HABONIM bidirectional floating ball valves are equipped with the Total HermetiX integrity package that have a double-body sealing for body-to-ends and for body-to-bonnet superior atmospheric sealing and the patented HermetiX™ steam sealing with zero fugitive emission sealing capability, which is tested and certified to ISO 15848-1 and API641 standards with up to 500,000 maintenance-free cycles life span.